Due to the relatively low cost of Chinese products, small business owner prefers to buy directly from China, Alibaba is the best choice for sourcing from China. By 2013, Alibaba had more than 50 million registered users. Without doubts, Alibaba is the largest B2B online platform in the world.
But if you want to reduce risks and cost, it's better to get more importing choices.
Are there any other choices for importing from China?
Exactly there are, and Alibaba is not the only choice for importing, follow me today, I will share you more sites like Alibaba in China.
Advantages of buying wholesale products from China
Before talking about Alibaba's alternative, I will show you some advantages of sourcing from China.
One of the most common reasons why the small business owner wants to source products from China, is the low cost, low cost, and low cost. This is a new Chinese trend, "If you want to say something important, you should repeat three times", just for fun.
Someone has named China as the World Factory because production costs in China are quite lower than in other areas in the world, lots of companies and individuals can make more money when they import from China.
But the low costs are not the only advantage for importing from China, here is more:
Low costs
Easily to get small quantities
Thousands of suppliers can choose to reduce risk
Strongly online sourcing platforms( Will introduce next section), is very convenient to communicate with suppliers
Becoming a leader in the industry, you can get the trends easily, for your industry, by the quick response from China wholesale market
Just go to the supermarket, check some products' label, 90% you'll find label printed "made in China".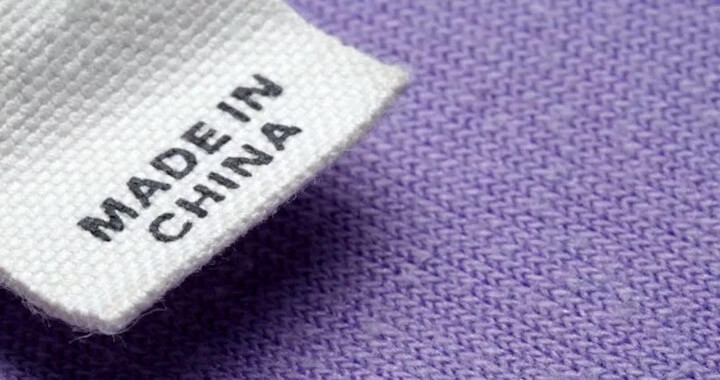 Then what's the next step to import from China?
After you finish all product design, it's time to find the right China supplier. Years ago, people suggest you visit China directly, but not you can find factories online.
With no doubt, the largest business online platform is Alibaba, but today I will show you more sites over Alibaba, check it out!
Alibaba
Alibaba.com is established by Jack Ma, who also owns taobao.com, China's largest online shop, aliexpress.com, a whole world online shop. Alibaba provides wholesale products all over the world, most suppliers come from China.
Website Data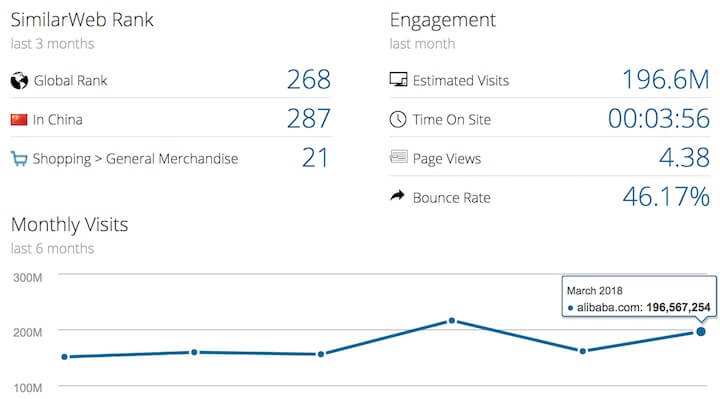 Monthly, more than 190Million people browse Alibaba.
Alibaba review
Product categories on Alibaba are huge, in other words, you can find almost everything on Alibaba. Alibaba's mission is helping China small business, to increase its business, and people from other countries can also register Alibaba's seller account.
If a supplier wants to be the seller on Alibaba, they need to pay at least 4650 USD/year, these basic members have another famous name, "Gold Supplier", so all Chinese suppliers on Alibaba are Gold Supplier! Lot's of articles may teach you, choose Gold suppliers as your final choice, now this is not a good way to verify manufacturers on Alibaba.
More than 8 million gold suppliers on Alibaba, companies who want to get more visitors, they need to pay a huge ads fee to Alibaba, Alibaba's suppliers are highly competitive, some of them want to decrease company cost, finally, they will save cost by-products or other extra fees.
How to sign in Alibaba
You can easily register a buyer account on Alibaba, also can sign in with Facebook/LinkedIn/Google+/Twitter, I suggest you can sign in with a domain email, even though you can buy from Alibaba without any company by individual, but use a domain email make your more professional, suppliers will treat your as company.
Alibaba has its own chat software, TradeManager, you can talk to the supplier directly. Another way to contact the supplier, you can send a quote by online contact form.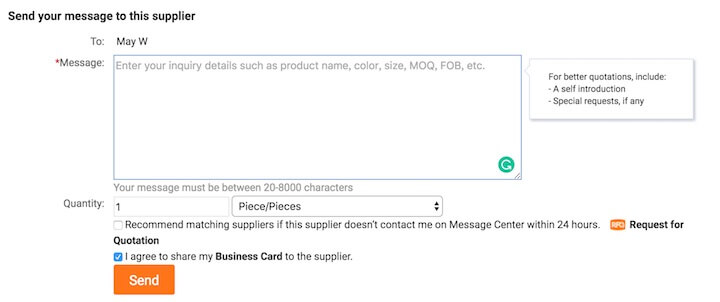 pros
Whole products' categories, can find almost everything you want
directly negotiations on Trademanager
Payment insurance
cons
Not easy to verify manufacturers
Bad after services
If you are a small business and have found the supplier you needed, try with little quantities, this is a better choice than start with the large order.
More Reading:
Basic Knowledge about buying on Alibaba
Made in China
Made-in-China.com (Short as MIC) established in 1998, Nanjing. They only charge suppliers' membership fees, for buyers is free to use. They help China suppliers make advertising and SEO work. According to similarweb.com, MIC has nearly 10 million page views per Monthly, and there are huge export trade opportunities in these browsing.
Although MIC is far less well-known in China than Alibaba and Global Sources, its name is very attractive. It has a certain influence on overseas buyers. The overseas promotion of MIC is mainly through search engines such as Google and participation in overseas exhibitions.
MIC specializes in Chinese product promotion and only accepts Chinese suppliers to post product information. It is the business-to-business platform who only promoting Chinese products. Moreover, most of the buyers are from western developed countries such as Europe and the United States and are very regionally targeted.
MIC has two kinds of certification supplier, one is Gold supplier charges 4700 USD/year, the other is Diamond supplier charges 9500 USD/year.
What makes visitor confused is there are member types, actually suppliers post their certifications to show the Audited Supplier label, so this is more choice for you to verify the suppliers.

The advantages are mainly concentrated in garments, handicrafts, transportation, machinery, and other industries. You can find a small and medium-sized business with a reasonable financial strength on MIC, you can start small order with best Minimum order quantities, not like other platforms.
Website data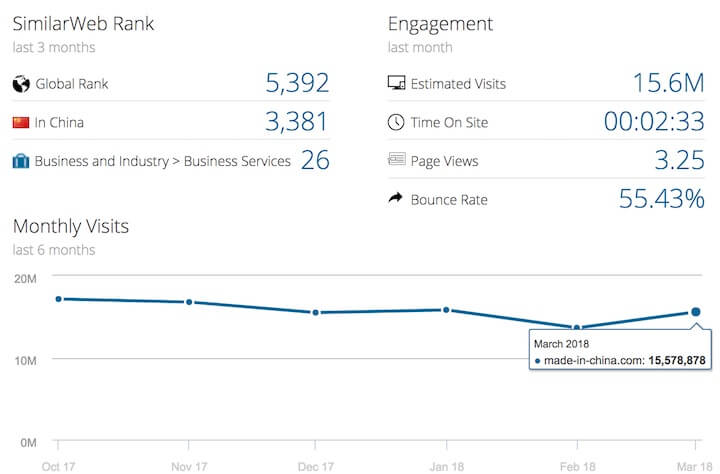 15 million visitors monthly.
How to use MIC
You can easily register MIC, as I told before, suggest domain email address. The company name is not necessaries for buyers, you can use your own name or brand name.
Go to the homepage of MIC, enter product keywords and choose from the suggestions below the search box will appear as you type.
You can choose both the product's result list and the supplier's result list. Talk directly to a supplier with online Trade Messenger, also support contact form send to suppliers.
For more guides, you can visit MIC guide How to source products on made in China
Global Source
Global Sources is an established multi-channel B2B foreign trade website. They offer services for suppliers such as offline exhibitions, business publications, and sales industry advisory reports. Its major advantages are electronics and gifts. The core business is to promote import and export trade through a series of media.
The GlobalSources operating model is packaged and sold in exhibitions, magazines, and websites. Suppliers want to show in Globe sources' magazine, they'll cost 18000 USD/year, with the exhibition fee is roughly around 23000 USD/year. The cost is very high, usually, Global sources' suppliers are large model companies.
Website Data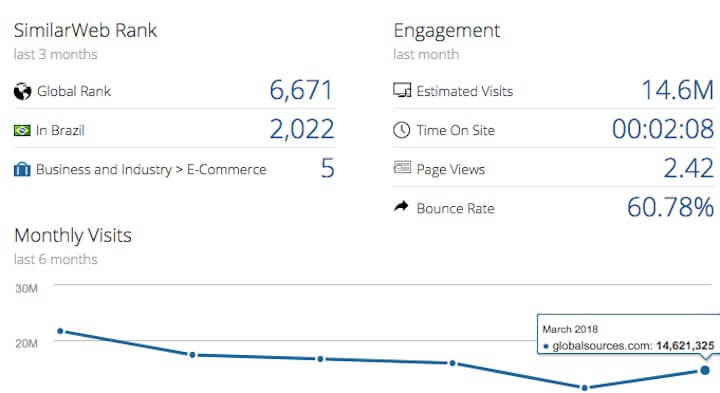 14 million visitors per month.
How to use globe source
Global Sources is similar to Alibaba and the MIC, but Global Sources will a little different from the other two wholesale websites. Global Sources will provide some user-friendly information, such as how to purchase from China to the United States or Europe, etc. , will teach you step by step.
However, Global Sources' suppliers not as much as Alibaba, because they focus on both online wholesale platform and Exhibition, so if you want to find some leading supplier, Global sources is the best choice, because manufacturers can offer Global sources' fee, they are able to support you either.
Hktdc
Hktdc is Founded in 1966, and run directly by the Hong Kong Government. The Hktdc is dedicated to promoting the Hong Kong trade. With more than 40 offices around the world, it provides services for those interested in exploring opportunities in overseas markets, and at the same time assists China enterprises to expand their international markets through the Hong Kong platform.
You can find products such as gifts, accessories, and toys on Hktdc. According to the feedback from my clients, the industry in this category is doing well. Heavy industry is definitely not very good. If it's something like gifts, toys, clothes, consumer electronics, it's a good choice. What's more, if you are planned to HongKong, don't forget to follow hktdc events
DHgate
DHGate is founded in 2004, DHGate is short from "Dunhuang Gate", one of the most important towns of Tang Dynasty, also famous for the trade city. "Find cheap tablet computers, cell phones and electronics here at Dhgate com Buy wedding dresses direct from China at low wholesale prices", this is their website description, that means you can buy directly from Dhgate, and electronic products and wedding dress are their feature products.
What's interesting, DHGate's boss Mrs. Wang Shutong, was the first CEO of Amazon.cn, the China Amazon, so buy from DHGate is totally safe. Suppliers on DHGate needn't pay an annual fee like Alibaba, they charge by commission fee, the other differences between Dhgate and Alibaba is, you can my 1 pc product from Dhgate, Dhgate is a platform both for wholesale and retail.
But as the commission fee is low, the quality of suppliers are not good as Alibaba, so you can purchase little quantities, but for large orders, you should make more inspection about the manufacturer's you want to work with.
More about dhgate you can read DHgate reviews.
Aliexpress
AliExpress is the branch of Alibaba.com, which focuses on b2c business. Somewhere you can find the same supplier both on Alibaba and AliExpress, but AliExpress is obviously more expensive than Alibaba.
However, AliExpress also has his advantages:
No limit quantities: You can buy only a simple product from Aliexpress. This is the same as DHGate, but more categories than DHGate.
Shipping is free. Usually, shipping on AliExpress is free, when buying from China, the shipping will cost you a lot, Aliexpress free shipping not only saves costs but also very easy to calculate your production costs, this advantage is particularly friendly to the dropshipper, which is why Dropshippers choose Aliexpress.
No need to communicate with suppliers, you can buy directly on Aliexpress without communication with any suppliers, as easily as buying on Amazon, don't need to negotiate, just click the purchase button, but if you need a large quantity from Aliexpress, sometimes talk with the supplier can get discount.
So when you doubt that is Aliexpress safe, you can put your mind at ease, try Aliexpress, he is just son of Alibaba!
But at the same time, the delivery time is really long by the Aliexpress free shipping, and even takes 60 days. But the good news is, more paid shipping methods can be chosen on Aliexpress, money can save time.
Secret Weapon
Why 1688.com is the secret weapon? Because 1688 is the biggest online wholesale website in China!!!
1688.com
Similar to Alibaba, 1688 is a B2B website in Chinese for wholesale and dropshipping. It gets millions of manufacturers, traders as well as buyers together and make the online business easier.
1688 pronunciation in Chinese means make good fortunes in the longtime run and many Chinese people especially businessmen think it is auspicious, besides, 1688 is easy to remember and spread, that's why Alibaba changes its Chinese website into 1688.
But most of the suppliers in 1688 only focus the Chinese domestic market, lots of them cannot support English services. Even though buying in 1688 is much cheaper than other platforms, but communication and pay for China suppliers are both challenges for importers.
Every cloud has a silver lining, importing from 1688 can be easier than what you think.
Here are two solutions for negotiation and payment for China suppliers in 1688:
1. Use translator to connect China supplier
Translator like google translator is very simple to use, you can translate messages to Chinese, and send to supplier s who don't know any English. I strongly suggest using Wechat to communication with manufacturers, because using Wechat, can directly translate English to China, and also in China, suppliers like to post products message to Wechat Moments, you can get hot sales at the first time.
2. Hire a 1688 agent
Even with the translator's help, some misunderstandings are not easy to cross over, unless you are good at Mandarin. As 1688's products are cheaper than Alibaba, hire a 1688 agent is a better choice, and you will save much time to negotiate with China's supplier. Also, they will help you pay China suppliers.
Sometimes with the agent's commission, the whole cost on 1688 is still cheaper than other places
Conclusion
To import from China successful, you must know where to find the right suppliers, everyone knows that we should import from Alibaba, but with these others sites like Alibaba, I think you will make a big move then your competitors.
Tell us your story about importing from China, what scams you have met on China wholesale websites, or problems you want to know, leave comments as below, we try our best to answer you.
If you enjoyed this post, I'd be very grateful if you'd help it spread by emailing it to a friend or sharing it on Twitter or Facebook. Thank you.
If you enjoyed this, you might also enjoy these posts:
14 Things You Need to Know before buying on Alibaba
Import from China actually is not a simple task. If you are working with a sourcing agent like me, then you're already way ahead of the game. But what if you're one of the 99% of small business owners or Amazon sellers who are not familiar with importing from China. I want to share my sourcing expertise with you to help you grow business.