A newbie foreign importer can quickly be confused with the intricacies of shipping from China. In this article, we're going to break down all the complex circumstances and factors you need to understand when you buy Chinese products.
Importing goods from China is a great way to get products at a discounted price. For business owners or importers, Chinese products can be your ticket for substantial revenues.
However, the Chinese shipping procedure can be complicated and is not particularly easy to understand due to the unfamiliar terms used and the different methods that you can undergo. It's as if you're learning a new language.
While complicated details can easily intimidate other potential importers, understanding the process can be quite simple.
We will offer you some useful suggestions about shipping from China in this article so that you can achieve a competitive edge among other importers.
You'll also find a simple Chinese shipping walkthrough in this article.
Shipping Methods
For most businesses, the total expenditure is the main determining factor and consideration when it comes to shipping.
While you and your customers can save more cash by choosing the cheapest shipping choice, other logistics approaches are worth considering.
Every shipping method offers a difference in transit time and freight charges. If you're a smart importer, you're going to do the most cost-effective way.
Express Courier - Swift and Most Convenient Way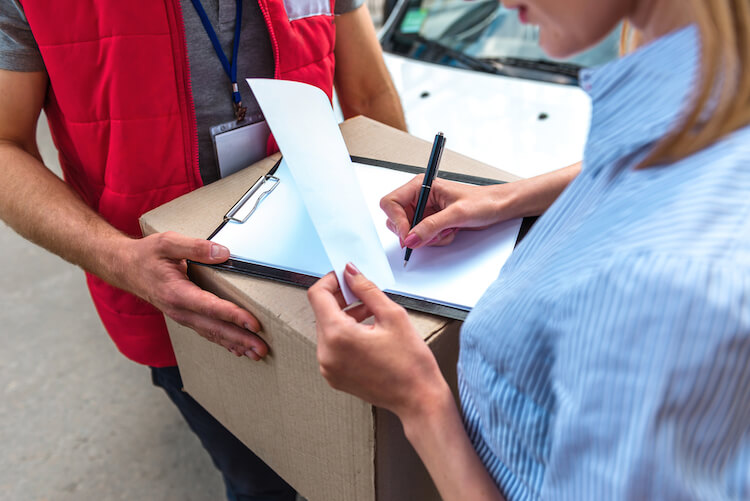 International Express Courier is regarded as the quickest and most efficient route to get your merchandise to your doorstep from China.
For most entrepreneurs starting out, the most appropriate strategy will be shipping through a courier company. DHL, UPS, and FedEx are the most widely used delivery company in China. TNT is prevalent in Europe, but not as notable in China as the others.
You get fast shipping times and a courier service online monitoring facility. For most courier shipments to arrive anywhere in the globe, it requires only 2-5 days.
If you're a resident in America, we suggest using UPS or FedEx as your Courier.
For importers from South America, Southeast Asia, and Africa, we suggest FedEx.
DHL is a great courier for those who live in Europe, Australia, New Zealand, and Southeast Asia.
Please note that different courier's advantages may vary by weight.
Another added benefit is the seamless shipping experience. All you have to do is accept and sign the package when it comes.
Delivery is usually fast and dependable. There is also a tracking number that you can use as a reference to assist and fix any issue.
There is almost no better choice for shipping less than 200Kg popular products than international express shipping. If you are unable to pay the express tax, you may be able to purchase more products by sea freight and ship together, or you may have to give up and purchase from local providers.
International Express (FedEx, DHL, UPS, etc.) is appropriate for high-value products or products that need to be supplied very quickly to certain locations, such as fashion products like those of jewelry, apparel, or electronics.
However, the price is much higher than the postal service.
One significant thing to keep in mind when using international express is that they calculate the bulky cargo by dimension weight (length*width*height/5000). So that implies a lot of express fee will cost products that occupy a larger space.
Sometimes, however, big purchasers prefer international express rather than air freight, as it generally has a cargo promotion price that is much cheaper if you have big cargo over 1,000 kg. The cost of air freight is not much indistinguishable, but it is more convenient than the latter.
Regular China Post Mail Package

If you're looking for an economical way of shipping your package, then the regular China Post Mail package is the way to go.
However, the downside is that it may take up to 2-5 weeks for regular China Post (or Hong Kong Post) to turn up. If you're happy to wait, small loads of shipments can be the cheapest option. Although the information is not generally updated on time, you can monitor your parcel online.
It is pretty economical but we don't recommend this shipping method at most times. The reason is because it is not as safe and lost packages may be difficult to retrieve.
If your cargo is 20-200Kg, China Post Mail by sea freight is a good option as it only costs about 1/3 of the international express value, especially for distant areas such as African nations where other heavy freight firms are charged.
Another great thing about it is that it only calculates all goods by weight, never by dimensional weight, which is useful for lightweight goods.
But for each package, it has a limit of 20Kg, so you have to divide your cargo into several boxes. And shipping usually requires about 2 months lead time, so you will only choose it if you really care about the shipping price.
 Air Freight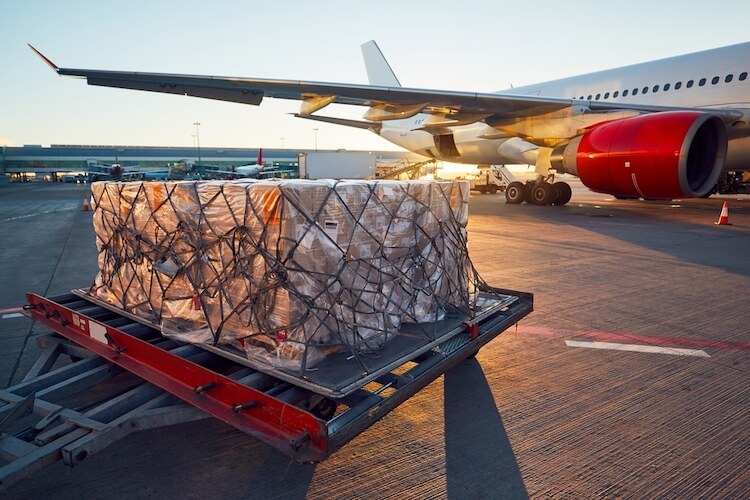 If the weight of sourced products is too large for couriers (500 kilograms or more) air shipping could be the best option. With air freight, costs will be considerably lower than with shipping companies.
This is the best method, particularly if you have tight deadlines or need tighter safety checks. Transit time varies based on the schedule of the flights, but it usually ranges from 2 to 10 days, which is faster compared to other shipping routes.
However, extra work is required when the products arrive at the destination airport. You have to handle customs clearance and documentation on your own which for many newbie importers may seem impractical.
You can of course always hire a credible buying agent such as Lazpanda, a customs broker, or a trucking company to work on these duties at an extra price.
We advise you try to select air freight if the chargeable weight exceeds 250 kg. Otherwise, stick to international couriers if less than 250 kg.
Sea Freight 
It can take a long time for ocean freight to arrive, but it can carry an enormous amount of products that drive down costs. The range of cargo that can be transported is also an important benefit. That's why it's one of the most common and widely used logistics modes.
If you plan ahead and arrange a timeline, marine freight will be your top choice despite the extensive shipping time. Depending on where you are headquartered, it can arrive in your area within 3-60 days.
Like air transport, documentation, customs clearance and distribution of products from the port to your warehouse or facility will need to be taken care of.
In particular, shipping by sea can be cost-effective if you are ready to manage the logistics of clearing the products by customs. Also, you can manage your great bulky purchases well through this method.
Railway Shipping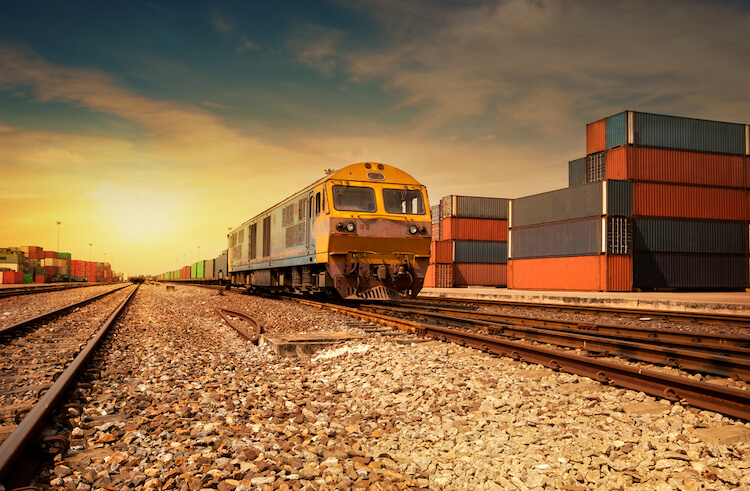 In November 2014, Yixin'ou Railway Line was launched, connecting China and many European nations. This line begins via Kazakhstan, Russia, Belarus, Poland, Germany, France at Yiwu City, China, and lastly arrives in Madrid, Spain. However, it currently only accepts full container load shipping.
Before it was open to the public, it took at least a month in shipping for the products imported between China and Europe to arrive, but at the moment it only takes 15-20 days by rail.
However, its freight charges are about 3-4 times pricier than sea shipping charges, but they are still more low-cost than air freight (around 8-10 times bigger than sea shipping charges).
For European entrepreneurs exporting wine and olive oil to China, Yixin'ou line is really a better option. Because during the trip it is more stable so that the products can be sold after a very short time when they arrive in China.
Hire a freight forwarder
All of the shipping methods described above require you to find the shipping methods by yourself, but if you find that will waste lots of time, but also you still need to save the shipping cost, it's time to hire a freight forwarder.
A freight forwarder will help you consolidate goods locally and send them to you, the advantage of this is that you can save a lot of money.
You may have seen an experiment, the Experimenter puts a lot of stones inside a cup, and you think this cup is full, but the Experimenter still put a lot of sand to the cup, and you definitely confirm the cup is full this time, but the Experimenter can still pour a lot of water into the cup.
Imagine your cargo is this cup, you find a freight company by yourself, may only be filled with stones, but with a freight forwarder, your packed cargo can be stuffed with stones, sand, and water.
That's not the only benefit to hiring a freight forwarder. If you are an Amazon seller, then hire an Amazon freight forwarder can help you repackage the complex Amazon packaging requirements, and assist you in preparing the extremely complicated paperwork to help you clear customs quickly.
Overall, when your import business rises to a team model, you should hire a remote freight forwarder to help you with the import and export of your goods.
Shipping Terms that You Need to Be Familiar With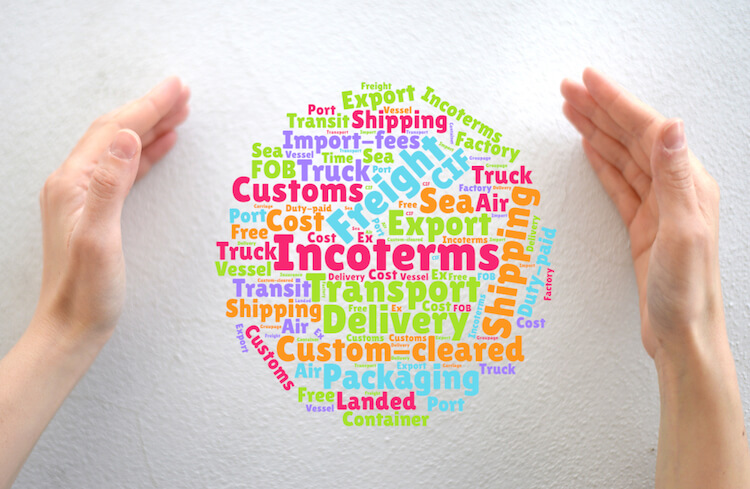 While shipping products from China, you'll probably come across unfamiliar terms. Allow us to break them down for you so you can start shipping products from China with credence.
Incoterms
Incoterms are the codes specifying how to transfer the products to you from the supplier. These are international standard codes indicating where the cargo is to be shipped to the importer from the vendor.
DAP ("Delivered At Place") is a popular incoterm. This essentially implies that your freight will be delivered to a designated overseas destination from the supplier in China.
FOB, which stands for "Free On Board," is another common code. This implies shipping from the supplier to the export port. However, it is your responsibility to arrange transportation to your final destination.
Always be sure to inform your provider what you want when you receive a quote for shipping. You might end up paying much more than you anticipated otherwise so it pays to be sure.
Find here a list of all incoterms that you can use.
FCL and LCL Shipping
Both of these terms relate to transport expenses and container size used.
FCL means "Full Container Load" while LCL stands for "Less (than) Container Load". Depending on how much you buy from your Chinese distributor, you can fill a whole shipping container or just part of one.
You are shipping FCL (full container load) when you are using a whole container yourself. Take note that more products equal a full container.
Typically, by the volumetric unit and weight unit, shipping FCL is cheaper. However, many importers do not buy enough products to ship FCL.
Airfreight can be considered, but the price is often too high. In this case, the ideal solution is LCL (less than container load).
Your products will share containers with other products when shipping LCL. In other words, various cargo from different buyers ends up in the same container.
While this provides you a cheaper overall cost, it ends up costing more per unit volumetric.
Essentially, how much you're shipping will depend on your selection of FCL or LCL.
Freight Insurance
To put it simply, freight insurance is insurance on what is being shipped.
In case anything goes wrong like incidents of fierce pirates hijacking your cargo, your losses are covered by freight insurance.
The incoterms specify who is liable for shipment insurance. The incoterm CIF (Cost Freight and Insurance) automatically includes insurance.
If you are using the DAF or DAT incoterms, you must inform the shipping company that insurance is needed for your cargo.
Insurance generally costs about 50 to 100 dollars which is a relatively reasonable price.
Shipping Lead Time
Shipping / lead time, as the name indicates, is how long it takes to reach the destination port from the shipping port.
This is important because you need to position your order the longer the lead time. If you need to receive your shipment by July, you must place your order several months in advance.
Keep in mind that the lead time does not only include the shipment of the goods. It also involves the following:
Before loading (up to 1 week) your cargo sits in the port.
Administrative delays at both ports
Delays linked to weather.
The point is easy: it is somewhat unpredictable to ship by ocean. When placing your orders, give yourself a big margin for possible delays.
Export Packaging
The last thing you want to do is to damage your cargo during transportation.
Damaged cargo results in loss of income and plummeting profits. Knowing how to package your cargo is essential to your business.
You also need to be crystal-clear with your provider, as they may not conform to your standards. Using inexpensive packaging materials is not rare for Chinese suppliers, which then usually leads to breakage.
Don't make transactions with your suppliers ambiguous. Provide illustrations as to how items should be packaged if possible.
Furthermore, if extra regulations for certain products (such as lithium batteries) are to be considered, be sure to also indicate those. If these rules are not followed, penalties and delays may occur.
Bill of Lading
The Bill of Lading works as a sort of checklist. It demonstrates:
The shipping company
The exporting company (supplier)
 The buyer
 The shipping products
 The product volume
 The incoterm used on the products
A Bill of Lading is required when shipping from China and must always accompany the shipped goods.
As stated above, shipping abroad is somewhat unreliable and deliveries can be delayed.
The best way to remain on top of when your shipments should arrive is to track your containers. You need the shipping line that carries your cargos' container number, reservation number, or document number to monitor your products.
All this data can be found on your Bill of Lading.
You should be able to monitor the progress of your shipment once you have this information.
Conclusion
After reading this guide, we hope that we were able to shine a light on the seemingly complicated process of shipping from China.
Yes, it can be somewhat confusing, but once you're accustomed to them, it fits nicely together.
You can get well versed in shipping with just a little bit of time and effort.
Choose the best shipping option for you after considering all the actual variables and financial circumstances. To declare a winner for you and your business, you will have to decide which factors are the most relevant.
Of course, you can always change from shipment to shipment, depending on whatever is most suitable for your products.
Import from China actually is not a simple task. If you are working with a sourcing agent like me, then you're already way ahead of the game. But what if you're one of the 99% of small business owners or Amazon sellers who are not familiar with importing from China. I want to share my sourcing expertise with you to help you grow business.